Lady Saint Win Streak Reaches 16
Brock Kappelmann - February 7, 2019 6:37 am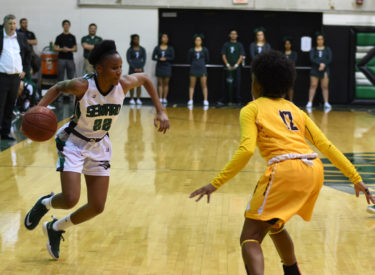 LIBERAL, Kan. – Carla Covane had 16 points and 16 rebounds and Lexi Hernandez added a team-high 22 points to lead the sixth-ranked Seward County Community College women's basketball team to its 16th straight win with a 83-65 victory over Garden City at the Greenhouse.
Aquila Mucubaquire added 15 points and Silvia Veloso chipped in with 14 points as the Lady Saints improved to 14-1 in the Jayhawk West and 22-2 overall.
The Lady Saints started off slow, falling behind 6-0 early in the first quarter before coming back and trailing 18-16 at the end of one.
It was nip and tuck in the second quarter before SCCC used a 16-4 run to turn a two-point deficit into a 10-point lead, 41-31, at the half.
Covane, who posted her team-leading sixth double-double, tied the game with a jumper at 27 with five minutes remaining in the half and it was all Lady Saints the rest of the quarter with Volso adding six points and Vonda Cuamba and Kalen Green dropping in four each during the spurt.
Garden City went on a 5-0 run to start the third quarter, but never got any closer as Seward weathered the run and held on 61-50 after three quarters.
Talia Roberts led the Lady Broncbusters withn23 points and Alyssa Boyce added 17 points as Garden City dropped to 6-9 in conference play and 11-13 overall.
Seward will be back in the Greenhouse on Saturday (Feb. 9) when they host Pratt at 6:00 p.m. for Homecoming.  Pizza Hut will be the sponsor and free tickets can be picked up at Pizza Hut locations.