Lady Saint Season Preview
Brock Kappelmann - October 29, 2018 2:47 pm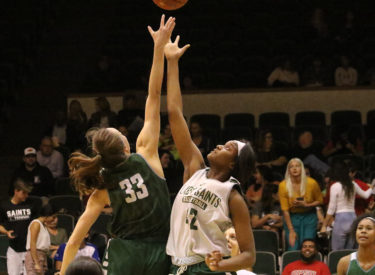 LIBERAL, Kan. – For the first time in over a decade, there will be a new face pacing the sidelines for the Seward County women's basketball team as Austin Mefford will look to continue the strong tradition of winning for the Lady Saints.
"Our goal for this season is to continue to grow the program from what Coach Littell and Coach Wynn built," Mefford said. "We have set our goals high and look to be playing the last weekend of the season."
Coming off their first Region VI Championship since 2007 and their second straight 5th place finish at the NJCAA National Tournament, the Lady Saints will return six athletes from the team. Diana Gomez (Liberal, Kan.), Kalen Green (Forney, Texas), Lexi Hernandez (Canyon, Texas), Sidney Tinner (Amarillo, Texas), Silvia Veloso (Maputo, Mozambique) and Carla Covane (Maputo, Mozambique) will all look to make an impact this season.
Two sophomore standouts will be looked at to play major roles this season. Hernandez enters her sophomore season after earning national recognition during the offseason, becoming the 10th Lady Saint in as many years to compete in the NJCAA All-Star Weekend. Veloso will look to improve upon her impressive freshman campaign that saw her named 1st Team All-Jayhawk and 1st Team All-Region VI, while finishing with the 7th most steals in a single season in Seward history (118).
"I'm excited for what the future holds for this group of returning sophomores," Mefford said. "They have the experience of playing on the highest level in Junior College basketball. They have come in and worked hard and bought in to the process and new style of play and coaching from day one. As a group they have a chance to do something special this season."
It will be another relatively young squad for the Lady Saints, with eight players being true freshman. Aquila Mucubaquire (Maputo, Mozambique), Kierra Flowers (Cypress, Texas), Jasmine Wright (Merrillville, Ind.) and Ali Lucero (Liberal, Kan.) will all jockey for playing time at the guard position. Jaylyn Cage (Houston, Texas), Taelor Parker (Hooker, Okla.), Bernadete Vonda-Cuamba (Maputo, Mozambique) and Karolina Szydlowska (Wroclaw, Poland) will battle for minutes at forward.
Mefford will look to make it 27 straight seasons that the Lady Saints have won at least 20 games. No stranger to winning, he comes to Seward from Gulf Coast State where he coached under Hall of Fame coach Ronnie Scovel for five seasons, winning two NJCAA National Championships in 2016 and 2017.
Joining Mefford on the bench will be first year Assistant Coach Lizzie Nessling. Nessling spent the past two years as an assistant coach with NAIA University of Saint Mary, helping the Lady Spires reach the semifinals of the KCAC Tournament in both years.
Seward opens the season ranked 10th in the NJCAA. The Lady Saints are joined in the Top 25 by fellow Jayhawk Conference members Hutchinson (13th) and Butler (16th). The two-time defending Jayhawk Champions were also picked to win the newly realigned Jayhawk West.
Fans will have plenty of opportunities to cheer on the Lady Saints as they play 15 home games this season, including two classics. Seward will open the season on November 2 (Fri.) when they host Western Nebraska in the Pizza Hut Classic, before finishing the Classic against Bethany JV on November 3 (Sat.).