Lady Saint Offense Perks Up in Win Over Pratt
Brock Kappelmann - January 19, 2023 7:04 am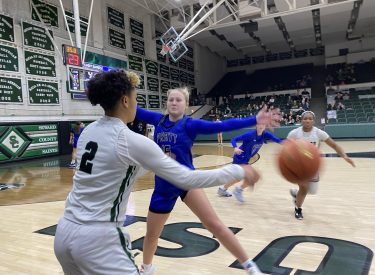 The Seward Lady Saints defeated the Pratt Lady Beavers 95-86 Wednesday night in the Green House.  Seward shot 48 percent from the field and 47 percent from three in the win.  Seward snaps a three game losing streak with the win.
The Lady Saints jumped out to a 24-15 lead after one quarter.  Seward led 29-19 and 32-22 before taking a 45-38 lead into intermission.  Seward built a third quarter lead of 61-47 before Pratt  used a 14-2 run to make it 63-61.  SCCC led 72-66 after three.  Seward led 81-69 with 8:20 to play and led 89-77 with 4:24 remaining.
Seward shot 48 percent and made 14-30 from three point range.  Seward was 7-13 at the free throw line.  Pratt shot 38 percent and mad 14-33 from three point range for 42 percent.  The Lady Beavers were 12-15 at the free throw line.  Seward out-rebounded Pratt 53-40.  Seward had 19 assists and Pratt had 10.  Seward won despite 21 turnovers playing their second game without starting guards Kylee Hunt and D'Arrah Allen.
Three Lady Saints posted career highs.  Halima Salat had 30 points and eight rebounds. She was 8-15 from three point range.  That's the second most three's in SCCC history at Salat's game matches Stephanie Thiel in 2004 and Stephani Rhoten in 2008.  That trailed only Mollie Mounsey and Daniela Galindo's 10 three's in a game.   De'Shawnti Thomas had 25 points and 11 rebounds.  Alianna Colon had 18 points and five rebounds.  Arianna Escalante added eight points and five rebounds.  Pratt's Princess Anderson scored 38 and made 8-15 from three point range.
Seward had won 59 of the past 60 against Pratt and is 10-9 overall and 8-5 in the Jayhawk.  Pratt drops their third straight and falls to 10-8 overall and 5-8 in the KJCCC.  Seward plays at Butler Saturday at 2pm with Saints Shoot-around at 1:45 on 107.5.