Lady Saint Assistant Wins Pancake Day
KSCB News - February 12, 2013 1:07 pm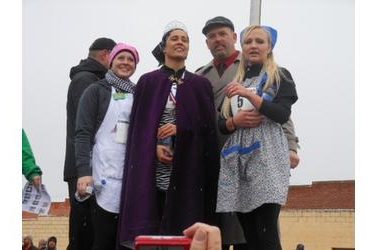 Seward Lady Saint assistant basketball coach Caitlin Demarest won Liberal's leg of the International Pancake Day Race. She ran the race in a time of 64.3 seconds to win the 415 yard race down Lincoln Tuesday during Pancake Day. Rene Boaldin came in second and last year's winner Kaela Krueger was third. But this was most certainly Olney's year to win the friendly International Race. Devon Byrne broke the record by running the race in 56 seconds. She breaks the record held by Tosha Gallegos when she ran the race in 57.5 in 2009.
The win marks two straight for Olney and makes the overall series 36-27-1 in Liberal's favor.
Demarest is a 27 year old who just moved to Liberal this year to assist Toby Wynn's basketball program. Boaldin is a 20 year old SCCC/ATS student and member of the Saints Spirit Squad. Krueger is 20 and also an SCCC/ATS student and also a member of the Saints Spirit Squad. She won the race last year. They particpated with Kristen Sadler, Heather Olmstead, Laura Garcia, Tabitha Barnett, Tessy Barnett, Jennifer Taduran, Mikayla Knudsen, Danica Ward, Giovanna Baca, and Katie Kline.