Lady Redskins Win First Postseason Game in Seven Years
Brock Kappelmann - March 2, 2017 7:23 am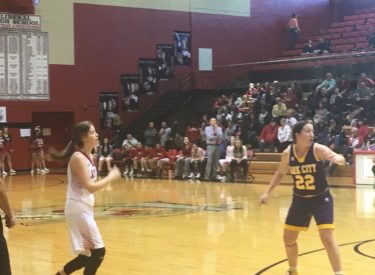 The first words uttered from the mouth of second year LHS head girls basketball coach Carter Kruger after the game last night were "survive and advance."  Liberal defeated a stubborn Ark City team 36-28 in the Big House Wednesday night.  It's Liberal's first postseason win since 2010 when LHS defeated Winfield 29-25.  Liberal advances to host Bishop Carroll Friday night at a time to be announced.
The M&M girls were dominant in the paint for the Lady Redskins as Jada Mickens scored 15 and Machia Mullens had 10.  LHS was 12-20 at the foul line.
LHS led 11-5 after one quarter.  LHS led 21-11 at the half and led 27-11 in the third quarter as LHS held the Lady Bulldogs scoreless for the first four minutes of the second half.  Liberal led 29-15 after three quarters.  Ark City's furious rally fueled by a half court trap helped Ark City cut the Liberal lead to 31-28 with 1:06 to play.  Machia Mullens rebounded a missed free throw and was fouled.  She made two clutch free throws.  Audrey Gilmore added two more foul shots and Whitney Hay added another for Liberal's win.
The Lady Red improves to 10-0 in the Big House.  They host 17-4 Bishop Carroll Friday night on 1270 and kscbnews.net.  The Eagles blew out Great Bend 61-33.  The game tips at 7 with Redskin Pre-game at 6:45 on 1270 and kscbnews.net.  All K-12 students will get in free if you are there by 6:45 thanks to area businesses.