Lady Red Roars Past Guymon
Brock Kappelmann - January 30, 2021 7:32 am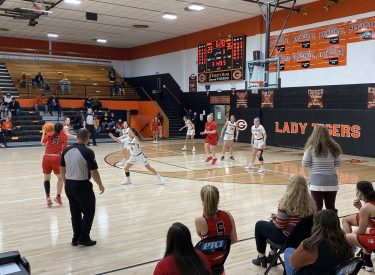 What a difference a game makes.  One game after shooting 25 percent and making 2-21 three pointers Tuesday in Gruver, Liberal's Lady Redskins ventured to Guymon Friday night and shot 51 percent and made 13-27 three pointers in a 70-49 win.  It's Liberal's second highest output of the season.  LHS also had a good rebounding night leading that category 34-19.
The Lady Red bolted out of the locker room to an early 11-2 lead and led 18-11 after one quarter.   The Lady Tigers trimmed the lead to 26-21 before the Lady Redskins made a couple of three pointers into the halftime locker room and led 31-21.  Liberal out paced Guymon 22-12 in the second quarter to lead 53-33 after three quarters.
Ashley Carrillo poured in 23 points and was 5-9 from three point range. Carrillo added six assists.   Hailey Contreras scored 12 on 4-7 shooting from beyond the arc.  Aubrey Warden had 10 points and six rebounds.  Bree Horyna added nine points and five boards.  Rylie Hallman had nine rebounds and Logan Dodge had seven rebounds.   For Guymon, Naomi Aragonez scored 19.
Liberal is 10-3 overall and has won nine straight against Guymon.  The Lady Tigers are 5-8.
Liberal returns to WAC play at Great Bend on Friday night at 6 on 1270 and kscbnews.net.