Lady Red Rises to the Occasion Against Guymon
Brock Kappelmann - January 28, 2022 9:35 pm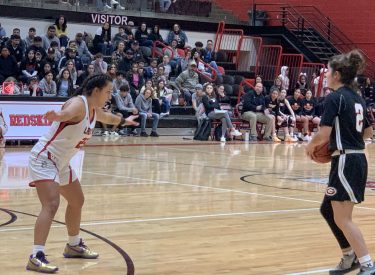 Guymon plays at 2-3 zone defense.  That is who they are and what they do and they do it well.  Liberal has had some issues in a few recent games against the zone.  But Friday night in the Big House, Liberal rose the occasion against the zone and played some stingy defense on their way to a 52-37 win over Guymon in the Big House on Friday night.  It was Liberal's 11th straight win against Guymon.
The was a highly competitive first half as Guymon's Yeraldy Ruiz hit a 35 footer at the end of the quarter to make it 13-12 Liberal.  The Lady Redskins claimed a brief nine point lead in the second quarter at 27-18.  LHS settled for a 27-21 halftime lead.  Liberal would own the third quarter out pacing the Lady Tigers 14-9 for a 41-30 lead after three.  Liberal out scored Guymon 11-7 in the fourth quarter for the win.
Liberal shot 43 percent from the field and made 8-22 three pointers against the zone.  LHS held Guymon to 31 percent shooting.  Ashley Carrillo had 16 points, nine rebounds, five assists, and one turnover.  Keyona Hall had 11.  Elle Hatcher and Bree Horyna had seven rebounds a piece.  For Guymon,  Seward signee Naomi Aragonez scored 16 and Yeraldy Ruiz had 12.
Liberal is 10-3 overall and 6-2 in the Big House.  Guymon is 9-6.  The teams will play again February 8 in Guymon.  Liberal hosts Great Bend Friday night at 6 for homecoming on 1270, 92.3, and the KSCB and The Legend App.