Lady Red Overcomes the Cold Against Great Bend
Brock Kappelmann - February 5, 2022 6:35 am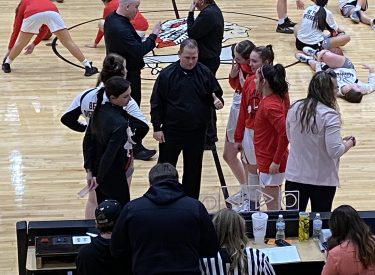 On a day which began with temperatures at -5, the Liberal Lady Redskins endured a cold shooting night against Great Bend's zone defense on Friday night.  But Liberal made the plays they needed to win 45-41 over the Lady Panthers in their homecoming game Friday night in the Big House. Liberal shot 31 percent in the win while Great Bend shot 54 percent.
Liberal struggled early trailing 9-0 and 13-2.  It was 11-2 after one quarter.  Liberal trailed 22-16 at halftime.  The Lady Redskins began the second half on an 11-4 run to take a 27-26 lead.  Liberal led 31-28.  It was 33-33 after three after a technical foul was issued to Ashley Carrillo.  Liberal responded early in the fourth quarter to lead 36-33.  Great Bend took a 37-36 lead with 3:01 to go.  The Lady Panthers claimed a 39-36 lead.  A Hailey Contreras three tied the score 39-39.  Great Bend took a 41-40 lead but a guarded lay up by Ashley Carrillo down the right gave the Lady Redskins a 42-41 lead.  Carrillo dropped in two free throws to lead 44-41 with 30 seconds remaining.
Liberal forced 16 turnovers while Liberal committed 10 turnovers.  Liberal had 10 steals compared to Great Bend's 3.  Ashley Carrillo scored 17 and made 10-14 free throws.  Hailey Contreras scored 12 and made 4-9 three pointers.  Liberal was 13-22 at the foul line while Great Bend was 11-19.
It's Liberal's 11th straight win against Great Bend.  Liberal is 11-3 overall and 5-0 in the WAC.  Great Bend falls to 4-10 and 0-4 in the WAC.  Liberal plays at Guymon Tuesday night at 6:30 on 1270, 92.3, and the KSCB and The Legend App.
JV lady Red got the win tonight against Great Bend 34-33 Lizzy Cisneros lead the team with 10 pts.
Saturday
The JV Lady Red went to a tournament in Garden today and picked up two wins against Garden City and Lakin. In the first game against Garden the lady Red won 28-13. Naomi Macias and Zoey Torres lead the team with 6 points. In the second game against Lakin the Lady Red won 35-25 and Zoey Torres lead the team with 17pts and went 4-6 from 3!