Lady Red Hands Hugoton their First Loss
Brock Kappelmann - February 18, 2021 6:38 am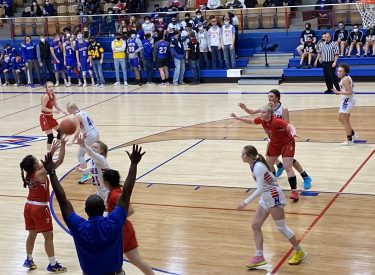 The Liberal girls gained another high profile win for their 2021 season Wednesday night.  The Lady Redskins went to Hugoton and defeated the previously unbeaten and second ranked Lady Eagles 58-53.
Hugoton took a 12-11 lead after one quarter.  It was tight throughout the second quarter and both teams struggled to score.  Hugoton claimed a couple of three point leads and 14-11 and 17-14.  The game was tied 23-23 at the half.  The Lady Redskins vaulted ahead by four at 38-34 before leading 38-36 after three.  Hugoton led 40-36 early in the fourth quarter before Liberal jumped ahead 47-40 with 5:02 to play.  Liberal took a brief eight point lead at 51-43.  Ashley Carrillo made key plays late.  With LHS clinging to a 51-50 lead, Carrillo stripped the ball from Hugoton for a steal and made a runner from the foul line to make it 53-50.  On the next possession, Carrillo tied up Hugoton for a jump ball which gave the Lady Red the ball.
Liberal shot 41 percent from the field while Hugoton shot 38 percent.  LHS was 7-21 from three and Hugoton was 2-9.  Hugoton got to the foul line 10 more times than Liberal but didn't take advantage going 13-26 while LHS was 13-16.  Hugoton out rebounded Liberal 31-23 while LHS had 20 turnovers compared to Hugoton's 18.
Aubrey Warden had 14 points and six rebounds in the win.  Ashley Carrillo came on late for 14 points.  Bree Horyna had 10 points and five rebounds.  Hailey Contreras scored nine in the win.  Mikyn Hamlin led Hugoton with 17.  Gianna Vos had 15 and played well defensively against Carrillo.  Summya Adigun scored 11.
Liberal wins their fifth straight against Hugoton and third straight at Hugoton.  Liberal is 14-3 and Hugoton is 15-1.  Hugoton hosts Holcomb on Friday night.  Liberal hosts Great Bend for homecoming Saturday night at 6 with Redskin Pre-game at 5:45 on 1270 and kscbnews.net.