Lady Busters Bruise Seward's Tournament Chances
KSCB News - February 13, 2014 6:54 am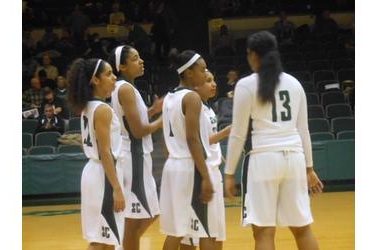 Despite trailing first place Hutchinson by two games in the Jayhawk West. the Seward Lady Saints still had plenty to play for this regular season. Seward received a number 10 ranking in Wednesday's NJCAA poll placing them in consideration for one of the four at large births to the NJCAA Tournament in Salina next month. But after a 57-56 home loss to a Garden City team who came in two games over .500 and one game over .500 in conference, those hopes are now flickering.
The Lady Saints didn't shoot straight in the loss making only 32 percent of their shots from the field while the Lady Busters shot 44 percent. Garden City won despite 25 turnovers.
Garden City led most of the way including 16-9, 21-14, and 32-31 at halftime. GCCC led 53-48 with 5:24 remaining. Garden led 55-50 before a Seward mini run. A Korina Chapman steal led to an Alana Simon layup to tie the game at 55. Chapman was fouled with eight seconds left and made one of two at the free throw line to give the Lady Saints a 56-55 lead with eight seconds left. But a Garden layup with two seconds left gave Garden City one point lead.
It's Garden City's second straight win at Seward. Garden City is 14-11 overall and 6-4 in the Jayhawk West and wins at Cloud and Seward this season. Seward is 22-4 and 7-3. Seward plays at Dodge City Saturday night at 6 on B107.5 and kscbnews.net.
#6 Butler def #22 Cowley 75-65*
Coffeyville def Allen 61-46*
#3 Hutchinson def Colby 80-44*
Cloud County def Dodge City 69-48*
Pratt def Barton 65-58*
Independence def Neosho County 79-69*