Lady Aggie is Heartland's Player of the Week
KSCB News - January 14, 2014 6:25 am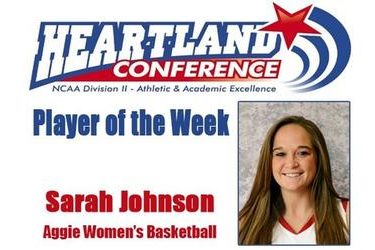 Sarah Johnson Named Heartland Conference Player of the Week
Submitted by OPSU Sports Information on 01/13/2014
Goodwell, Okla.-Senior point guard Sarah Johnson of the Oklahoma Panhandle
State University women's basketball team has been named Player of the Week
by the Heartland Conference for Jan. 6-12.
Originally from Muleshoe, Texas, Johnson transferred to OPSU from Pratt
Community College after her sophomore year and started for the Aggies in the
2012-2013 seasons. Johnson has had a great impact on the Aggie basketball
team and is an outstanding representative of OPSU and Aggie Athletics.
Johnson had back-to-back career-high games this week scoring over 30 points
in each of the two conference games and leading the Aggies to their first
win of the season. Johnson played physical basketball and contributed a
total of four rebounds, seven assists, one block, and two steals for the
week. She played almost a full 40 minutes against Rogers State after putting
in 30 minutes against UA Fort Smith. For the week, Johnson averaged 34.5
points, two rebounds, and 3.5 assists per game.
The coaching staff is extremely proud of Johnson's achievements. Hard-work
on the court and a positive attitude are the keys to success for any
athlete, and Johnson has excelled at both.
to Sarah for her outstanding contributions to Aggie athletics!