LACF presents at APAH National Conference
Joe Denoyer - November 29, 2022 7:38 am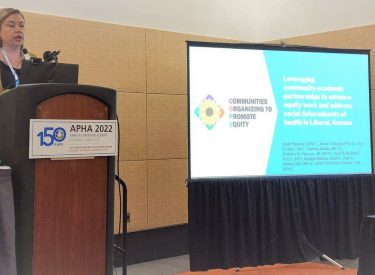 It's not often that a small community coalition has the opportunity to present at a national conference but the Liberal Area Coalition for Families was highlighted in a presentation at the American Public Health Association 2022 Annual Meeting and Expo in November in Boston.
Sarah Foreman, LACF Executive Director, and Susan Luckwago, LACF Community Health Outreach Coordinator, presented "Leveraging community-academic partnerships to enhance equity work and address social determinants of health in Liberal, Kansas," on Nov. 8 at the APHA conference.
"Often the Midwest is overlooked," Foreman explaining why the Coalition submitted a proposal with the encouragement of the KU Medical Center staff who have been partnering with LACF on several of its current projects. "LACF staff can offer a different set of experiences and lessons learned that may not happen at more populated communities. We have an extremely diverse community and we have made progress in health equity but we also have a long way to go."
Lukwago agreed with Foreman, adding "Sometimes there is a tendency to think the real work and research is only happening on the coasts of our country. Or the belief that good public health work only happens in the cities and at academic institutions. Talking about and presenting our work lets people know that our small rural community are thriving and quality work happens here."
Lukwago said she really appreciated that the LACF's work was recognized by the public health community and that the conference organizers thought it was worthy of sharing. "The reaction to our presentation was a lot of questions about cultural diversity and trust. There were also a lot of oohs and ahs when we showed them scenes from Southwest Kansas."
Lukwago said that the LACF presentation highlighted the history of the coalition, the work it has done through the years and how the coalition has grown into partnerships with academic institutions like Wichita State University and the KU Medical Center. Foreman said "Our goal for the takeaway is to be that the work we do is best done WITH the community, not TO the community. We want the softest voices to be heard and to do work that makes a positive difference in the lives of children and families."
Foreman added, "I really enjoyed talking with public health staff and coalitions from all over the U.S. There was also an expansive Expo Center with a multitude of resources for attendees." Lukwago said that one of the things that she picked up at the conference is that it's important to build and include evaluation in all our work. "I saw that evaluation does not have to be done by others in academic institutions. We can include evaluation from the very beginning and it does not have to be complicated."
Due to connections made at the conference, Foreman said that LACF will be offering a Narcan training for non-profits in December. "I met with an organization representative who is going to provide free resources to any person who takes the training."
LACF was started in 2001 and is currently managing more than $1 million in grants benefitting Seward, Haskell and Stevens counties. The coalition meets the first Thursday of the month at 9 a.m. at the Crosspoint Church in Liberal and the meetings are open to the public. For more information about the Coalition, call 620-655-7177, email [email protected], or visit the website at liberalcoalition.com or Facebook at Liberal Area Coalition for Families.