KWA Chair Appoints Ogallala Aquifer Advisory Committee
KSCB News - July 18, 2011 4:47 pm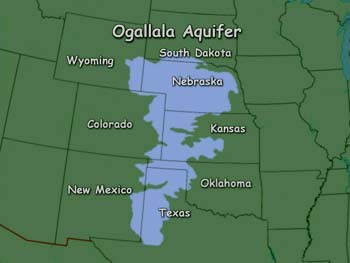 The Kansas Water Authority (KWA), in an effort to conserve and extend the useful life of the Ogallala Aquifer, is embarking on a policy planning process which will examine the existing barriers to conserving the Aquifer. KWA Chairman Gary Harshberger of Dodge City recently appointed a 21-member Ogallala Aquifer Advisory Committee (OAAC) , comprised of Authority members and Ogallala stakeholders, to assist the Authority in this effort. The OAAC will play a critical role in developing plans for the Authority.
"It is vital to have those directly affected involved in the process," said Harshberger, who was appointed by Governor Brownback in May to Chair the KWA. "The success of this effort depends on the locals to drive this course of action."
On July 21, Governor Brownback will host an Economic Summit on the Future of the Ogallala Aquifer on the campus of Colby Community College. He is committed to conserving and extending the useful life of the Aquifer while sustaining the economic viability of the region.
"The Governor's Ogallala Summit will serve as the kickoff to the OAAC's work," said Kansas Water Office Director Tracy Streeter. "Input received from the Summit will be considered, along with other information, as the Committee formulates its recommendations to the full Authority."
The OAAC committee will begin its work immediately following the Summit. They plan to address both short range and long-term policy over the next 18 months.
(See below for a list of the Ogallala Aquifer Advisory Committee (OAAC)
As the state's water office, KWO conducts water planning, policy coordination and water marketing as well as facilitates public input throughout the state.
The agency prepares the KANSAS WATER PLAN, a plan for water resources development, management and conservation. KWO also reviews all water laws and makes recommendations to the Governor and Legislature for needed legislation.
Ogallala Aquifer Advisory Committee (OAAC)
Armstrong, Carolyn: Colby, KS
Baalman, Mitch: Hoxie, KS
Baker, Gary: Hugoton, KS *
Doughtery, Toby: Hays, KS
Goodnight, Kim: Dodge City, KS
Graff, Greg: Marienthal, KS
Harshberger, Gary: Dodge City, KS *
Irsik, Steve: Ingalls, KS
Kuhlman, Connie: Jetmore, KS
Lee, Matt: Satanta, KS
Maurath, Scott: Logan, KS
Maxwell, Larry: Colby, KS
McNiece, Mike: Cimarron, KS
O'Brate, Cecil: Garden City, KS
Ormiston, Rock: Kismet, KS
Ramsey, Mike: Garden City, KS
Scott, Clay: Ulysses, KS
Shirley, Mike: Oakley, KS
Stramel, Bert: Colby, KS
Tobias, Curtis: Lyons, KS *
Vulgamore, Brian: Scott City, KS