Kuhns Keeps Meade on Track After State Title
Brock Kappelmann - August 23, 2022 12:43 pm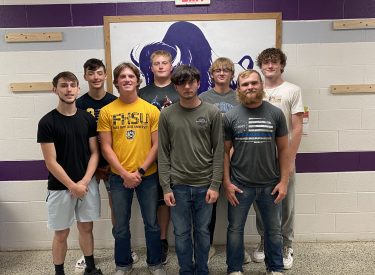 Coming off a 13-0 season and a state championship, there is transition in Meade.  They lose eight senior from their 8 man division 1 championship team.  Last year's head coach and longtime assistant took the Liberal job after last season.   But there is reason to believe it can be a successful transition.  MHS graduate Clint Kuhns was an assistant last year and takes the head coaching reigns of the program.  He is from Meade and was on former coach Scott Moshier's first team at Meade in 2007.  That team turned Meade's fortunes from a doormat to a program which has now won three state titles in the past 12 seasons.
Kuhns has talent coming back with four starters back on both sides of the football.  There are 28 players out for football.  Some of the key Buffaloes are Sr. G/NG Brady Papay, Sr. WR/CB/ Wyatt Ellis, Sr. RB/LB Kody Green, Sr. Wr/CB Braetyn Couse, Sr. WR/S/CB Kasch Jackson, Sr. QB/CB Grayden Stapleton, Sr. RB/MLB Brayden Norris, Sr. WR/QB Tyrese Smith, Jr. Rb/LB Brock Keith, Jr. QB/LB Cade Cronister, and Jr. RB/LB Harrison Bachman.
Meade was featured during the Sportsguys on Tuesday.
Schedule
September 2- at South Central
September 9- at Hodgeman County
September 16- Satanta
September 23- Sublette (102.7)
September 30- at South Gray
October 7- Wichita County
October 14- at Spearville
October 21- Elkhart
October 28- Playoffs