KU Coach Lands in Liberal
KSCB News - May 17, 2013 9:36 am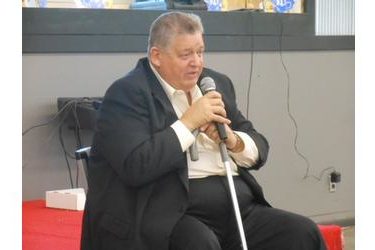 KU head football coach Charlie Weis spoke to Jayhawk fans at the Seward County Ag Building Thursday night. The second year coach says Kansas will have much better talent on the field next fall, but fell short of placing a numerical value on the season. Weis and the Jayhawks were 1-11 in his first season after dismissing 29 players from the Turner Gill's team. Weis has 16 years of NFL experience and four Super Bowl Rings and led Notre Dame to back to back BCS games.
KU Athletic Director Sheahon Zenger also spoke to the crowd about how he hired Weis and how pleased he is with the coach's progress on the field and academically.
Click on the audio icon to hear the Weis interview. An interview with Zenger will air during the Monday morning Sportsguys between 7:37 and 9 on 1270 and kscbnews.net.