KU Alumni Association President Swings Through Liberal
KSCB News - June 29, 2012 2:26 pm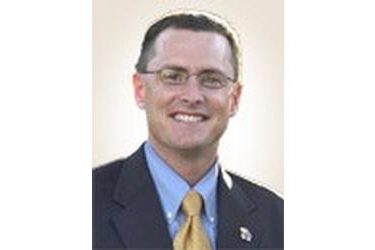 University of Kansas Alumni Association President Kevin Corbett and other members swung through Liberal Thursday and Friday. The Southwest Chapter of the KU Alumni Association hosted their Rock Chalk Rally at Billy's Thursday before the golf tournament Friday at the Liberal Country Club.
Corbett was joined by Hugoton native and Assistant Vice President of Alumni and Student programs Heath Peterson, Assistant Director of Kansas Programs Jake Strecker, and Assistant Athletic Director for Development Doug Banks.
This marks the 7th year of the golf tournament which in the past has drawn KU personalities like Wayne Simien, Bud Stallworth, David Lawrence, Chris Piper, Bonnie Henrickson, Gary Bender, Jim Marciony, Gale Sayers, and others.