KS. Legislators To Head Back To Work
KSCB News - April 20, 2011 8:03 am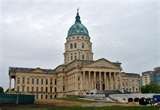 Legislators have plenty of work ahead of
them when they return to the Kansas Statehouse next Wednesday, some
chores they must do and others they would like to accomplish.
Leaders of the House and Senate budget committees return to
Topeka on Tuesday to begin negotiating a final draft of the 2012
budget for the fiscal year beginning July 1. It calls for spending
some $14 billion in the next year, including about $6 billion in
state tax revenues.
The budget must be finished before the 2011 session ends, but
Republican Gov. Sam Brownback has also asked legislators to begin
looking at defining what constitutes a suitable education.
The goal is to clarify just what is required of the state and
its 289 districts and prevent further legal fights.