Krolo and Fisicaro Take 3rd at ITA's
Brock Kappelmann - October 19, 2021 7:12 am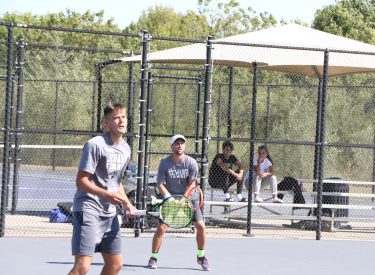 ROME, GA. – Seward County Community College Men's tennis student-athletes Karlo Krolo and Luciano Fisicaro finish third at the ITA National tournament in the doubles draw. Krolo and Fisicaro went 2-1 in Rome Georgia this past weekend with a loss in the semifinals to the No. 3 seed but bounced back to sweep Tyler Junior College in the third-place match.
In the first-round match, the Saints took on Ching and Shteyn from Collin College. Krolo and Fisicaro swept Collin's doubles team 6-1, 6-3 with their strong serving and power from the net.
No. 2 Krolo and Fisicaro went on to compete against the No. 3 seeded team in Mosvold and Dalisay from Tyler Junior College. The Saints lost the first set 6-4 and looked to correct some wrongs in the second set. The second set went into a ti breaker but TJC dominated the tiebreaker 7-1 to win the set 7-6.
In the third-place match, Seward County faced off against Saints Martin and Shearer from TJC. Krolo and Fisicaro came out and swept Saint Martin and Shearer with set scores 6-3, 7-5 to claim third place.
Krolo and Fisicaro will learn from this experience will look to build on this for the spring season.