Kobach Secures 1st Non Citizen Voter Fraud Conviction
Joe Denoyer - April 12, 2017 4:17 pm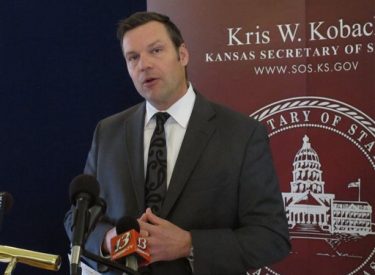 Kansas Secretary of State Kris Kobach answers questions from reporters during a news conference about a federal judge's ruling ordering the federal government to help Kansas and Arizona enforce their proof-of-citizenship requirements for new voters, Wednesday, March 19, 2014, in Topeka, Kan. Kobach and Arizona Secretary of State Ken Bennett filed a lawsuit over the issue. (AP Photo/John Hanna)
Kansas Secretary of State Kris Kobach announced Wednesday that he has secured his eighth voter fraud conviction and his first non-citizen conviction.
According to the secretary, Victor David Garcia Bebek voted on three separate occasions, a 2012 special election, the 2012 general election, and the 2014 general election, without being qualified to vote.
Bebek plead guilty on April 7 in Sedgwick County Court to three counts of voting without being qualified, a class A misdemeanor. Under the plea agreement, Bebek was placed on unsupervised probation for a period of up to three years and must pay a $5,000 fine. Probation will terminate upon payment of the fine.
Kobach gained the authority to prosecute voter fraud back in the July 2015. He has secured $29,000 in fines for election related crimes.