Kobach Asks Federal Court To Sttle Redistricting Issue
KSCB News - May 16, 2012 11:58 am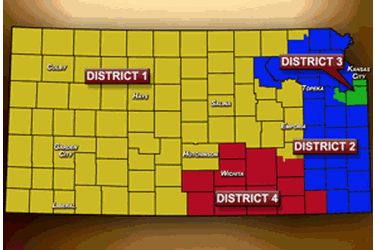 Secretary of State Kris Kobach is asking a federal court to settle political redistricting issues for the Kansas Legislature.
Kobach made his request Wednesday in response to a federal lawsuit filed earlier this month over redistricting. Kobach, the state's chief elections officer, is the defendant in the case, which was filed by a Republican precinct committee member in Olathe.
He's asking that a panel of three judges impose plans to adjust the state's political boundaries.
Kobach's filing came shortly before a news conference he scheduled to discuss redistricting and only hours before the Senate was debate a plan for redrawing the chamber's 40 districts.
An impasse among majority Republicans in the Senate has prevented any redistricting proposals from passing and threatens to
delay the state's Aug. 7 primary election.