Knoll Second Team All Region
KSCB News - March 11, 2011 2:16 pm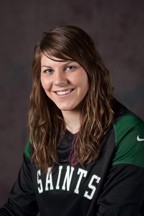 After being named All-Jayhawk Conference a week ago,
Seward County Lady Saints forwards Ashlynn Knoll and Mariah Lee have
been chosen for the NJCAA All-Region VI Team. Knoll was named to the
Second Team while Lee was named to the Honorable Mention list after
leading the Lady Saints to a 21-11 record in 2011. Knoll led the Lady
Saints this season at both 12.1 points per game and 6.9 rebounds per
game while Lee trailed her closely in both of those categories with 11.1
points and 5.5 rebounds per contest. Knoll and Lee combined to lead
Seward in scoring in 19 of the 32 throughout the season and were their
top rebounders in 24 of the 32. The duo will return next season to head
a group of eight Lady Saints returners looking to take Seward back to
the top of the Jayhawk West Conference.
(Roy Allen)