Knoll Finishes Lady Saint Season Honorably
KSCB News - April 10, 2012 1:52 pm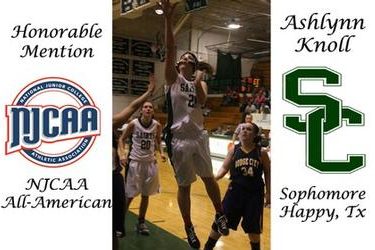 Seward County Lady Saint forward Ashlynn Knoll has been
showered with awards during her two seasons with the green and white and
Tuesday the awards hit a peak as the NJCAA announced that Knoll was
named an Honorable Mention NJCAA All-American for her work on the court
this season.
Despite being slowed somewhat by injuries this season,
Knoll still managed to lead Seward County in scoring and rebounding for
a second straight season at 13.8 points and 6.3 rebounds per game during
her sophomore campaign. She led the Lady Saints in scoring 10 different
times in the 2011-2012 season including both games of the Region VI
Tournament. Knoll led Seward to yet another 20 win season and a 2nd
place finish in the Jayhawk West Conference standings.
Knoll was one of three Jayhawk West players to be named
All-American this season, joining Hutchinson's Jackie Patterson who was
a 1st Team selection and Laura Patrick who was a 2nd Team choice.