Kismet Little World's Fair Enters 91st Year
KSCB News - September 2, 2010 12:00 am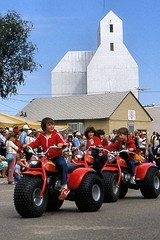 Kismet Little World's Fair 2010 Schedule
Saturday, Sept. 4
noon Registration for Kismet's First Motorcycle Poker Run
7 p.m. – midnight Carnival on Main St. All three days
5:30 p.m. Fish and Chips by Bret $5 at the door
6 p.m. Kismet Alumni Banquet
Sunday, Sept. 5
9:30 a.m. Worship Services at United Methodist Church
10:30 a.m. Worship Services at Faith Bible Church
11:45 a.m. Taste of Kismet at the Pavilion $5 at the door
1 p.m./3 p.m. Soccer Game
2 p.m. Sand Volleyball at Headrick Park
2 p.m. Turtle Treasure Hunt
2:30 p.m. 1.5K Bicycle Cross-County Poker Run (children ages to 16 years old)
3 p.m. 3 on 3 basketball tournament (Grade sixth and up)
6:30 p.m. Church Services at the Pavilion by the Plains/Kismet Ministerial Alliance
8 p.m. -midnight Street Dance with Party Tyme Productions
Monday, Sept. 6
6:30 a.m. 5K/10K registration at grade school
7:30 a.m. 5K/10K fun run at grade school
7:30 a.m. 5K walk at grade school on The Kismet Little World's Loop
7:30 a.m. – 9 a.m. Breakfast at Pavilion $5 at the door
9 a.m. Parade Judging on North Main
10:30 a.m. Parade begins on North Main Street
noon Free Ham and Beans at the Pavilion
1 p.m. Turtle Downs Registration and Race
1 p.m. Slatting on Main St.
2 p.m. Frozen T-Shirt Pull
2 p.m. Kid's Tractor Pull
2:30 p.m. Bike/Trike/Stick Horses
3 p.m. Water Ballon Toss on Main Street
5 p.m. Lions Club Hamburger Stand
7 p.m. Minute to Win It Game Show
All events sponsored by the Kismet Lions Club. For more information contact Linda Winter at 620-563-7861 or 620-655-3242.