King Leads the Pack at Great Bend
Brock Kappelmann - January 26, 2022 5:29 pm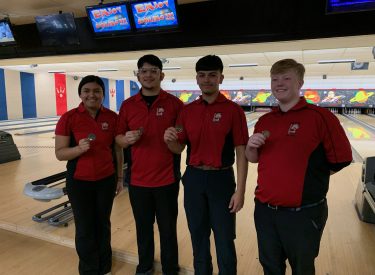 @ Great Bend
Varsity Girls battled vs a very strong Great Bend team. They finished the day with 2179 total pinfall. Caitlyn Carlile led the team with a 526 series finishing 4th overall. She also had the highest team single game 183. Finishing 8th overall Addison Hartnett with a 408 series.
Varsity Boys finished the day with 2916 total pinfall, winning
7 WAC points. Going into Bakers play up only 13 total pins. After game 2 of Bakers play, Liberal was up only 2 total pins. After a 230 final for game 3 Liberal shut the door on Great Bend. Josh King finished 1st overall with a top series score of 613 series, with a 204 average. Oscar Rubio finished 3rd overall with a 584 series and the best overall single game score of 264.
JV Girls finished with a total pinfall of 1457 winning 2 WAC points. Ashley Munoz 2nd overall and led the team with a 352 series and highest single game of 140. Jasmine Olson finished 4th overall with a 292 series.
JV Boys finished the day with 2237 total pinfall earning 4 WAC points. Carlos Campos finished 3rd overall with a 461 series. Jaden Jennings finished the team best single game of 178.
Liberal Varsity travels to Wichita over the weekend for the Great Plains Invitational at Northrock Lanes.