Kentucky Claws Kansas for National Title
KSCB News - April 3, 2012 6:35 am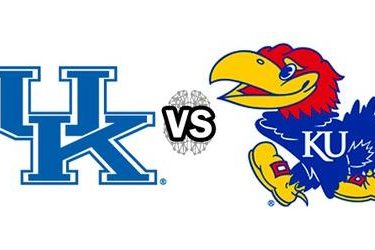 NEW ORLEANS (AP) – Doron Lamb scored 22 points, and Kentucky won
its eighth national championship, holding off Kansas for a 67-59
victory Monday night.
The Wildcats (38-2) led by as many as 18 points in the first
half and were still up 15 with 5:13 to play. Kansas (32-7), a team
which rallied from several big deficits this season, was able to
get as close as 62-57 with 1:37 to play.
Kentucky closed the game by making five of seven free throws
over the final 1:11 and that set off quite a celebration in the
Superdome.
Kentucky's Anthony Davis, only the second freshmen to be
selected national player of the year, had six points on 1-of-10
shooting but finished with 16 rebounds and tied the
championship-game record with six blocks.
Tyshawn Taylor had 19 points for the Jayhawks, and All-America
Thomas Robinson had 18 on 6-of-17 shooting and had 17 rebounds.
The Wildcats' 41-27 halftime lead was one of the biggest in
title game history. North Carolina had a 21-point lead over
Michigan State in 2009.
Kentucky's last title came in 1998 and that year the Wildcats
set the record for largest halftime deficit overcome, rallying from
a 41-31 deficit to beat Utah 78-69. Kansas couldn't get that
record.
NCAA CHAMPIONSHIP-KANSAS
Kansas digs hole too deep against Kentucky
NEW ORLEANS (AP) – Kansas couldn't come all the way back this
time.
The gritty team that had walked a tightrope all the way to the
national championship game finally fell off against mighty
Kentucky. An 18-point deficit against a team full of future NBA
draft picks was too much for the Jayhawks, who fell 67-59 on Monday
night.
Kansas had rallied from big early deficits against Purdue and
North Carolina State in the NCAA tournament, giving some folks the
feeling that things were meant to be this season.
Such a premonition gained support when the Jayhawks dug
themselves out of a 13-point hole against Ohio State in the
national semifinals, setting up a showdown with the team that has
been anointed the eventual national champions by many pundits most
of the season.