Keating Tractor and Equipment and KSCB to Host a Saturday Full of Activities
Joe Denoyer - August 24, 2023 10:56 am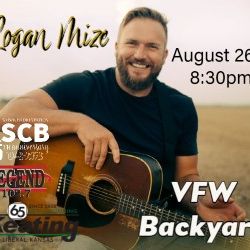 KSCB and the Legend, in conjunction with Keating Tractor and Equipment will hold an end of the Summer Celebration with the 6th Annual Antique Tractor Show and a Logan Mize Concert.
Saturday morning, August 26th, the Antique Tractor Show will kick off at Keating Tractor, 7422 Road 3 in Liberal, at 9:00 am. There will be activities for the entire family with craft vendors, food vendors games and contests. At 9:30 am there will be a Quilts of Valor Presentation followed by the KSCB Cornhole Tournament at 10:00. The Cornhole contestants will be play for a $1,000 prize with no entry fee required.
Also on site will be a sanctioned Kansas City Barbecue Society barbeque competition, bounce houses, tractor rides, barrel train rides, face painting, a hay bale maze with a corn pit in the middle. There will also be a raffle for a grill and meat bundle to benefit Southwest Miracles.
At 5:30 pm, the gates will open to the Backyard of the VFW for the Logan Mize Concert featuring special guests, The Solis Brothers. The Solis Brothers will start at 7:00 pm with Logan Mize taking the stage at 8:30 pm. Lanning Brothers Barbeque will be set up at the concert and there will be beverages of all types available for purchase.
Tickets to the Concert are just $25 and are available at the Crazy House, Keating Tractor and Equipment, and the KSCB Studios. Tickets will also be available at the door.