KDOT Prepared For Winter
KSCB News - November 29, 2010 12:00 am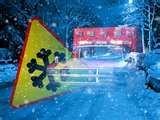 Kansas transportation officials say
resources are still a little tight this year as they prepare for
winter weather, but things aren't as bad as they were at this time
a year ago.
Department of Transportation spokesman Tom Hein says last year's
winter road maintenance efforts were hampered by staff shortages,
higher diesel fuel prices and an increase demand for salt.
Hein says crews did the bare minimum in treating and cleaning
icy and snowy roads last winter, and he's sure travelers noticed.
Hein says there is still a
shortage of truck drivers to spread salt and sand, but some of the
other factors that stressed the department last year have eased up.