Katie Horyna Commits to Abilene Christian
Brock Kappelmann - June 18, 2019 1:27 pm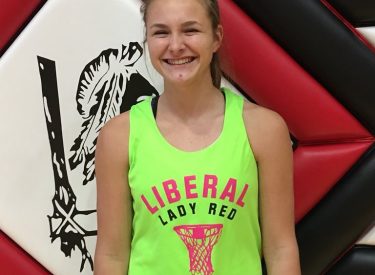 Liberal point guard Katie Horyna has committed to play basketball at division 1 Abiline Christian.  Horyna made the announcement official on Twitter Tuesday morning.  Horyna averaged 14 points, four rebounds, and three assists for 22-1 Liberal last season.  That's after averaging 13 points, four rebounds, and four assists as a sophomore and 4 ppg and 3 apg as a freshman.  Horyna improved her outside shooting this season making 41 percent of her 3's.  She made 51 percent of her field goals.  Horyna has been the Western Athletic Conference player of the year the past two seasons.
Horyna joins an Abilene Christian program which went 23-10 last season.  Julie Goodenough, a former Oklahoama State head coach, finished her sixth season as head coach of  the Wildcats.
Horyna joins Machia Mullens (UMKC) and Jada Mickens (UMKC) as division 1 commitments.
Horyna made her commitment public on Twitter.
"I am so very excited to announce that I have COMMITTED to Abilene Christian University.  First, I want to thank God for giving me the ability to play basketball and helping find an exceptional fit for me.  Thank you to my amazing family who has chauffeured me to practices, games, and always supported me in every way that they can.  Thank you to may teammates who make me better everyday and always push and encourage me.  Lastly, thank you to may coaches: Coach Kruger, Coach Fowler, Coach Durler, Drew and Nicole and the Ohlde Elite organization and Coach Washington.  They have pushed me to be where i am today and I would not be here without them! Coach Goodenough and crew, I can't wait to join your family.  GO WILDCATS!"