Kasey Hayes Continues His Winning Ways
KSCB News - July 7, 2014 10:27 pm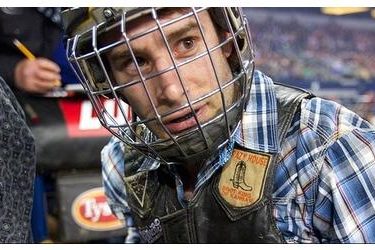 It didn't matter that it was a BlueDEF Velocity Tour event for Kasey Hayes . The 28-year-old showed up on Sunday afternoon to the Carson, California, BlueDEF Velocity Tour event looking for a victory, and he calmly and collectively did just that.
Hayes easily handled Romeo in the championship round with the poise of a BFTS veteran for his second 87-point ride of the day, and earned his first BlueDEF Velocity Tour event victory of the summer with 174 points.
The Liberal, Kansas, native was able to keep his free arm in strong position as Romeo quickly spun away from his hand at the outdoor StubHub Center.
"The bull went around the right – away from my hand – and I did what it took to stay on him," Hayes said. "I knew I had to stay on him to win, and that's what we come here to do. Ride two bulls and that is fortunately what I did."
Hayes quickly rebounded from his rideless Saturday night in Carson by kicking things off on Sunday with an 87-point ride on Pike as the day's first rider to nod his head.
He was simply happy to just ride the bovine and escape any danger after watching the bull on Saturday night.
"He looked kind of hooky," Hayes said. "My plan was to ride him as long as it took to get him straightened out, and then I could jump off and run to the fence and not get hooked – and that worked."
California native Sam Matthews (170.5 points) rode both his bulls on Friday night for a second-place finish. Tyler Harr (170) used an 87-point ride on Slinging It Sunday in the championship round to finish the two-day event tied in third with Derek Kolbaba . Justin Granger 's 88-point ride aboard Peanut on Friday night notched him fifth place.
After picking up June TPD wins in Cedar Park, Texas, and Bismarck, North Dakota, Hayes was hoping his winning ways would continue this weekend. However, Hayes was coming off a third- and sixth-place performance in Pendleton, Oregon, despite a 90-point ride there, and wanted to make sure he finished the Fourth of July weekend with at least one victory.
"I needed to get a win," Hayes said. "Once you start winning, you show up expecting to win. If you do less than winning, then it is not really what you showed up to do."
Gage Gay , who was unable to find any success in Carson, had won the Pendleton, Oregon, TPD event with a 92.5-point ride on Mini Me, prior to arriving in California.
Hayes knows he has a solid hot streak rolling right now and he is embracing it. Instead of sitting at home in preparation for the second half of the BFTS, Hayes is trying to build off his current success.
He finished the first half with a 36.73 riding percentage on the BFTS – his highest since 2008 – and he hasn't slowed down since riding Fire & Smoke for 94 points in Bismarck. Hayes is next planning on riding on July 9 at the Pikes Peak or Bust Rodeo in Colorado Springs, Colorado, before heading to Park Rapids, Minnesota. If he qualifies for the Pikes Peak or Bust championship round, he will return to Colorado Springs on Saturday.
"Man I feel great," Hayes said. "I am still going, because I am riding good, so it's dumb to be sitting at home."
Hayes began the weekend 12th in the world standings and by the way he is riding this summer, it is very possible he could potentially crack the Top 10 by the time the BFTS resumes in Tulsa, Oklahoma, next month as only 83.75 points separate No. 9 through No. 12 in the tightly-contested world standings.
Regardless, Hayes isn't too concerned with the standings. That will take care of itself if he just continues to make 8 seconds, picking up wins along the way, he noted.
He admits this season is shaping up to be one of his best, and he couldn't be happier than simply riding bulls for a living.
"I am here to do what I wanted to do when I was a little kid, and that was to ride bulls and win," Hayes concluded.