Kapaun Walks Past Liberal
KSCB News - May 16, 2013 6:51 am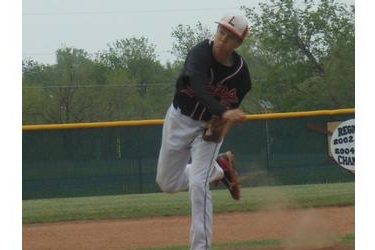 To pull the upset, the Liberal baseball team needed to be better on the mound and in the field. Liberal pitchers walked seven and beaned one in the first three innings in a 14-4 five inning loss to Kapaun Wednesday afternoon at Andover Central High School. The Redskins also committed three errors and had several other misplays on double play opportunities. Kapaun only out-hit Liberal 9-7 but all eight Crusader runners who were walked or beaned scored. Kapaun pitching issued one walk and one beanball.
Liberal came out ready to swing the bats scoring a run on three hits in the first. Jared Hasik Christian Hernandez, and Brandyn Terrazas all singled. But Kapaun scored four runs on three hits in the bottom of the inning. Liberal scored another run on three hits in the second when Diego Zavala, Hasik, and Hernandez all singled. But the Crusaders put up four more runs in the second to make it 8-2. Liberal added another third inning run to make it 8-3, but Kapaun plated five runs on just one hit to bury LHS in the third. Collin Ware was Liberal's most effective pitcher throwing the fourth without allowing an earned run.
Jared Hasik and Christian Hernandez had two hits a piece in the loss. LHS finishes 9-12 one year after a 2-19 season. Liberal loses only freshman Alberto Aldaz who is moving away from Liberal.