Kansas Wheat Crop In Good Condition
KSCB News - June 29, 2009 12:00 am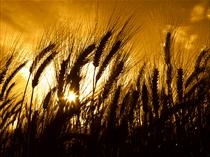 Kansas Agricultural Statistics Service has given Kansas crops good marks in its latest update.
The agency reported Monday that the winter wheat harvest was 47
percent complete. It rated the condition of wheat still in the
field as 13 percent excellent, 39 percent good and 31 percent fair.
About 17 percent was in poor to very poor condition.
Corn is rated 14 percent rated excellent and 53 percent good.
About 26 percent was rated fair, while 5 percent was rated in poor
or very poor shape.
Sorghum condition was rated 78 percent good to excellent, with
19 percent fair and 3 percent in poor to very poor shape.
Soybeans also are doing well with 69 percent in good to
excellent condition. About 28 percent is in fair shape and 3
percent in poor condition.