Kansas Supreme Court Issues Decision in Case of Magistrate Judge Appointment
Joe Denoyer - July 29, 2016 10:05 am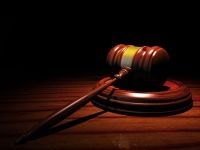 Controlling Kansas statute permits Governor Sam Brownback to wait until after the result of a four-way primary election on August 2 before naming an interim district magistrate judge in the 26th judicial district, according to the Supreme Court's unanimous decision filed this morning in Ambrosier v. Brownback, Case No. 115,982.
Three judges from the district brought the original mandamus action in the high court, invoking K.S.A. 2015 Supp. 25-312a. That statute sets a 90-day time limit for the governor to fill the seat on the bench. The time begins to run when the clerk of the Kansas appellate courts gives the governor notice of the vacancy.
In today's unanimous opinion written by Justice Carol A. Beier, the justices interpreted the legislature's use of the word "shall" in the statute to be directory rather than mandatory, meaning the governor has discretion to exceed the 90 days. An original action seeking a writ of mandamus cannot force a public official to engage in a discretionary act.
The court's decision relied upon its 2009 opinion in State v. Raschke, 289 Kan. 911, 914-21, 219 P.3d 481 (2009), which had extensively reviewed relevant historical caselaw and distilled a four-factor test to determine the directory/mandatory question. Each of the four factors cut in favor of the governor's position in today's case.
Justices Dan Biles and Caleb Stegall did not participate in the decision. Senior Judges Michael J. Malone and David L. Stutzman served in place of the two justices.