Kansas Senate Hopefuls Moran, Tiahrt Spar In Debate
KSCB News - July 7, 2010 12:00 am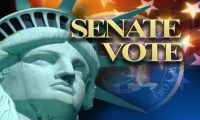 The first televised debate between Kansas' leading Republican candidates for Senate has revealed divisions on immigration and the handling of terrorism suspects.
Congressmen Jerry Moran and Todd Tiahrt (TEE'-hart) faced off Tuesday evening in a debate broadcast live from the studios of a Topeka television station.
Moran criticized Tiahrt for his past support for proposals in Congress to make it easier for illegal immigrants to pay lower college tuition and obtain driver's licenses.
But Tiahrt said his position on immigration has changed because he's consulted with fellow Kansans.
Tiahrt criticized Moran's votes in 2006 against legislation to continue allowing military tribunals to try suspected terrorists. Moran says he thought the legislation was flawed and unconstitutional.