Kansas Sampler Festival This Weekend
KSCB News - May 4, 2012 12:02 pm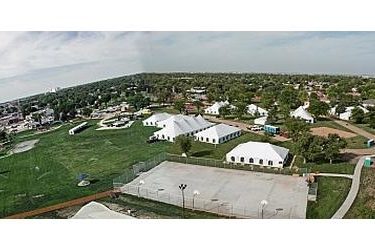 Liberal's Light Park will be filled with community displays, entertainers, products, foods, historic performers and more on May 5 and 6 to celebrate all that is Kansas at the 23rd annual Kansas Sampler Festival.
The primary focus of the event is to showcase day trip ideas to every corner of the state. Attractions from Hamilton County to Kansas City and Cheyenne County to Iola will be featured.
The festival is a project of the Inman-based Kansas Sampler Foundation whose mission is to preserve and sustain rural culture. The festival took place on the Penner Farm near Inman from 1990-1997, but since then, it has made two-year stops around the state in the cities of Pratt, Ottawa, Independence, Newton, Garden City, Concordia and Leavenworth.
Another purpose of the event is to support Kansas-made products. Most of these items will be found in the two Kansas Products tents but others will be located in some of the travel tents.
Festival-goers will find Grannie's Mustard from Hillsboro; Sticky Spoons jellies from Hutchinson; and Holmes Made Salsa from Wichita. Some of the others to check out include Bluff Creek Kitchen, Protection; spun yarn and finished products from Alpacas at Wildcat Hollow, Eskridge; B&B Metal Art, Hoisington; Koelzer Bee Farm, Corning; Prairie Lavender Farm, Bennington; whole white wheat from Montezuma Mills; Paramount Food Grains, Quinter; Kansas! Magazine; Kansas artists, books by Kansas authors and much more.
Communities will tell about their specialty shops, bed-and-breakfasts, cafes, and historical points of interest. Free-standing displays will include demonstrations about sheep shearing, packgoats, and fly tying. There will be a 1/8 scale drilling rig, Santa Fe Trail artifacts, and tin type photography.
Festival director Sally Fuller said, "Light Park will be absolutely full of tents and displays featuring all that is Kansas. The festive atmosphere is a fun way to learn what Kansas has to offer. There will also be many attractions open in Liberal."
The festival hours are 10 a.m. to 5 p.m. Saturday, May 5, and 10 a.m. to 4 p.m. Sunday, May 6. Adult admission is $5; children 7 to 12 $3. For more information go to kansassamplerfestival.com or call 620-626-0170.