Kansas Man Pleads Guilty In Farm Thefts
KSCB News - July 7, 2010 12:00 am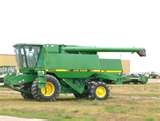 A Kansas man has admitted stealing farm
equipment in exchange for a three-year prison sentence.
Ryan Hanzlick of Gem pleaded guilty Tuesday to three counts of
interstate transportation of stolen farm equipment. His sentencing
was set for Sept. 17.
Assistant U.S. Attorney Alan Metzger told the 32-year-old
Hanzlick that the Kansas attorney general's office is also
considering charges for equipment stolen in Kansas that was not
taken across state lines.
A federal indictment accused Hanzlick and co-defendant Matthew
Jones of Colby with thefts in Colorado, Kansas, Nebraska, Oklahoma
and Wyoming.
Jones will be sentenced July 22.