Kansas Lottery Director Steps Down
KSCB News - November 14, 2012 1:59 pm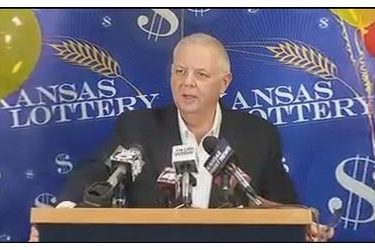 Kansas Governor Sam Brownback announced Wednesday he has accepted the resignation of Kansas Lottery Executive Director Dennis Wilson effective December 3, 2012.
"I appreciate the leadership and experience Dennis brought to the Kansas Lottery. Under his guidance, the agency saw a nearly 5% increase in ticket sales as well as the successful opening of two state-owned casinos," Gov. Brownback said. "He has served the state and his home community of Johnson County well. We wish him the best – and a speedy recovery."
Wilson began his business career in the retail automotive business in 1968 and went on to be a highly-successful owner/operator or investor in six new car franchise dealerships in the Kansas City area. He served in the Kansas House of Representatives from 1995 –1999 before working in the Kansas Treasurer's Office as Director of Unclaimed Properties for two years. He then was elected Johnson County Treasurer from 2001 to 2005 and then as State Senator for the 37th District from 2005 to 2009.
In his letter to the Governor, Wilson cited health reasons for his departure from the lottery.
"It has been an honor to once again serve my fellow Kansans. I have enjoyed my time working at the Kansas Lottery and with its dedicated staff. They work hard every day to ensure the agency and games are upheld to the highest industry standards," Wilson said. "I am disappointed that my service must come to an end but, I need to direct my attention to my full recovery from a serious knee injury and ensure that it does not further deteriorate."
The mission of the Kansas Lottery is to produce the maximum amount of revenue possible for the State of Kansas while ensuring the integrity of all games.
Governor Brownback will name an acting director in the coming weeks.