Kansas Legislators Begin Annual Spring Break
KSCB News - April 2, 2011 11:40 am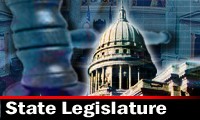 The Kansas Legislature has begun its annual spring break
.
Both chambers adjourned Friday — the Senate
around 2:45 p.m. and
the House about 30 minutes later. They'll return April 27 to wrap up the year's work.
Legislators began scheduling the break in 1969. The pause was
supposed to allow them to have a day or two left in the session to
consider any vetoes by the governor.
But that so-called veto session evolved into what's now known as
the wrap-up session — a period of intense work in which lawmakers
complete the state budget and resolve other important issues.
Last year's wrap-up session lasted 14 days.
Friday was the 74th day of the 2011 session, out of 90 scheduled.