Kansas Legislators Agree On Budget
KSCB News - May 12, 2011 8:09 am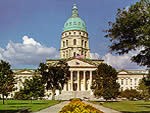 Kansas legislative negotiators have agreed
on a $14 billion budget for the state's 2012 fiscal year, one that
will cut overall spending between 5 percent and 6 percent.
The spending plan drafted Wednesday heads first to the Senate
for approval, then to the House.
Public schools would take the biggest hit during the next fiscal
year, which begins July 1. But almost every state agency would see
some spending cuts.
Much of the total reductions in the 2012 budget, between $770
million and $870 million, will reflect the disappearance of federal
economic stimulus funds.
Legislators can't end their session until they've passed a
budget. Wednesday was their 89th day in session, out of 90
scheduled.