Kansas House Votes To End Illegal Immigrant Tuition Break
KSCB News - February 22, 2011 3:32 pm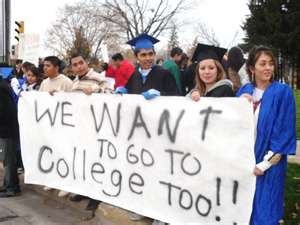 House members have voted to end a program that allows some illegal immigrants to pay in-state tuition to attend Kansas public colleges
and universities.
The chamber voted 72-50 on Tuesday to repeal the law, which
began in 2004. The bill now goes to the Senate.
Critics of the tuition program argue the state policy violates
federal law and is unfair to out-of-state and foreign students at
Kansas colleges and universities
.
Supporters say the repeal is driven by fear that the tuition
break is encouraging illegal immigrants to move to Kansas.
Similar measures have passed the House since adoption of the
policy but have failed to find enough votes in the Senate.
The state Board of Regents said 413 students enrolled under the
law last fall.