Kansas House Approves Budget
KSCB News - May 13, 2011 8:06 am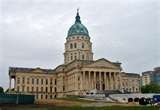 Kansas House members have approved a $13.8
billion budget to fund state government in the next fiscal year.
The plan is now with the governor.
They 69-55 vote came early Friday morning and follows the 28-11
vote in the Senate late Thursday. No Democrats in either chamber
voted in favor of the plan.
The package would erase a budget shortfall that at one point
approached $500 million, and create a $50 million cash cushion on
June 30, 2012, without raising taxes.
GOP conservatives in the House criticize the bill, saying it
still spends more than Kansas can afford. They're urging Republican
Gov. Sam Brownback to line-item veto expenditures.
Democrats say the while the plan creates a positive balance,
it'll hurt schools, the elderly and residents relying on social
services.