Kansas Highway Patrol Honors Fallen Troopers
Joe Denoyer - September 13, 2018 5:00 pm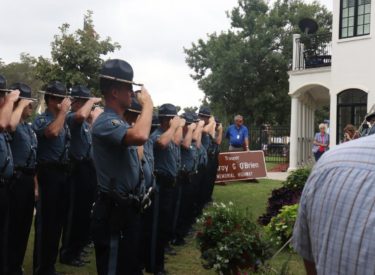 Family, friends, loved ones, and members of the Kansas Highway Patrol family gathered in Hutchinson today to honor the sacrifice of our agency's 10 troopers who have been lost in the line of duty. Governor Jeff Colyer and Colonel Mark Bruce spoke at the event where more than 120 people paid tribute to these 10 troopers for whom the state now has dedicated memorial highways.
"Today's event is one that we feel is incredibly important for our agency, and for all of these family members, those here with us today, and those who were unable to make it," said Patrol Superintendent, Colonel Mark Bruce. "These ten fine men lived a life of service and were proud to be a part of the Patrol. They are an intricate part of the Patrol's 81-year history, and they will never be forgotten."
"A life given in behalf of the safety of others is the ultimate sacrifice," said Governor Colyer, "I express my deepest gratitude to these brave men for their selfless service and extend my heartfelt condolences to their families. These men will always be remembered in our state, and I am honored to pay tribute to them today."
Governor Colyer signed Senate Bill 375 in to law earlier this year, designating memorial highways for the Kansas Highway Patrol's 10 fallen troopers, and for Johnson County Sheriff's Master Deputy Brandon Collins, who died two years ago.
"These highway designations will ensure that these honorable men will be commemorated and known to Kansans and our travelers for years to come," Bruce said.
Both today's event and the highway designations would not have been possible without assistance from several who partnered with the Patrol to ensure these men were commemorated. Governor Colyer and the Kansas Legislature were instrumental in passing Senate Bill 375 in to law. The Kansas Department of Transportation handled the printing and installation of the highway signs. The Kansas State Fair helped orchestrate today's event and assisted families who attended.
In the coming weeks there will also be a series of memorial events at cemeteries across the state. The cemeteries have been of great assistance in the planning of these events. The events honoring each individual trooper will be held at the cemetery where the troopers are buried. The first of these events will be held this afternoon at 4:00 for Trooper Conroy O'Brien in Abbyville. U.S.-50 Highway from K-61 to Sylvia, Kansas will be dedicated in his honor. For a list of Memorial Highway Dedication Events, go to: www.kansashighwaypatrol.org/Blog.aspx?IID=152#item. For more information on the Patrol's 10 fallen troopers: https://www.kansashighwaypatrol.org/35/End-of-Watch.
###