Kansas has Adequate Soil Moisture as Farmers Plant Wheat
Joe Denoyer - October 16, 2018 8:08 am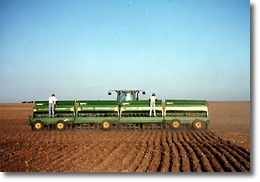 WICHITA, Kan. (AP) – The latest government crop report shows mostly adequate soil moisture levels across Kansas as farmers plant winter wheat and harvest fall crops.
The National Agricultural Statistics Service reported Monday that winter wheat planting was 62 percent complete, about average for this time of year. The agency says 44 percent of the planted wheat has already emerged in the state.
Meanwhile, growers are making some progress in bringing in their fall-harvested crops.
Corn harvest is 63 percent finished. Soybean harvest 16 percent done in Kansas. The state's farmers have also cut about 19 percent of their sorghum and 16 percent of the sunflower fields.