Kansas GOP Seeks Clean Sweep
KSCB News - November 2, 2010 12:00 am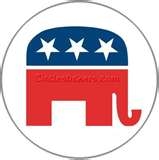 Kansas Republicans are seeking their first
clean sweep of statewide and congressional races since the Beatles
were charting their early hits.
The last time Republicans won all statewide offices and
congressional seats on the ballot was 1964.
Congressman Jerry Moran and U.S. Sen. Sam Brownback headed the
Republican ticket in Tuesday's election as the party's nominees for
U.S. Senate and governor. Both were expected to win.
Republicans also hoped to capture all four U.S. House seats.
Democrats were hoping a Republican tide wouldn't wash out
incumbent Attorney General Steve Six, Secretary of State Chris
Biggs and State Treasurer Dennis McKinney.