Kansas Conceal Carry Permits No Longer Good In Virginia
KSCB News - December 23, 2015 4:30 pm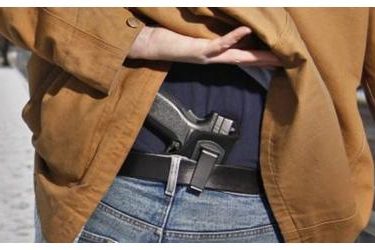 Attorney General Mark Herring says his office along with state police just completed an audit of the 30 states Virginia had concealed carry agreements with.
According to the attorney general, 25 of those states did not meet Virginia's standards when it came to carrying a concealed handgun. In Virginia some of the disqualifications for getting a concealed handgun permit include people with restraining orders, anyone who has been convicted of two or more misdemeanors and people under certain mental health conditions.
The attorney general says if states didn't meet those standards, their concealed carry permits could not be recognized in Virginia. If someone from one of the state's that's been revoked is caught carrying concealed in Virginia, they could have their guns seized by law enforcement. The attorney general says he's required by Virginia law to make sure concealed handgun permit holders meet Virginia's standards.
"The General Assembly passed important public safety laws, and has authorized me to work with state police to enforce them and I'm not going to look the other way," said Herring. Republican Del. Rob Bell, who's seeking to oust Herring in 2017, called the move another "Washington-style overreach from a nakedly partisan attorney general."
The Virginia State Police, on the advice of the Attorney General, has begun notifying the following states that their concealed handgun permits will no longer be recognized by the Commonwealth:
Alaska
Arizona
Arkansas
Delaware #
Florida *
Idaho
Indiana
Kansas
Kentucky
Louisiana *
Minnesota #
Mississippi
Montana
Nebraska
New Mexico
North Dakota *
North Carolina
Ohio
Pennsylvania *
South Carolina *
South Dakota
Tennessee
Washington #
Wisconsin #
Wyoming *
* indicates states that will no longer recognize Virginia concealed handgun permits because of laws in those states that require mutual recognition of permits.
# indicates states that do not currently recognize a Virginia concealed handgun permit