Kansas Coach Follows Yellow Brick Road to Liberal
KSCB News - January 26, 2012 6:49 am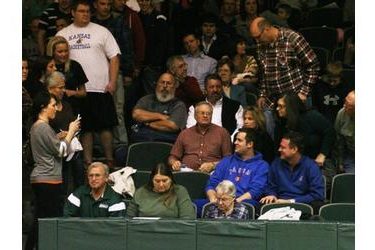 It's not every day the Kansas basketball coach steps foot in Liberal. Wednesday night, KU head hoops coach Bill Self set in the second row of the green seats and watched Seward play Garden City. Self was in town to recruit Garden City's Geron Johnson. Self signed Seward's Tony Heard to Tulsa in 1998. The two teamed to advance to an "Elit 8" at TU after heard was point guard for a Seward team who went 35-3.
Self graciously signed autographs and posed for pictures before the game and during halftime.
It was Self's first appearance in Liberal since he has coached at Kansas. But shortly after Self was named head coach, he made his first public appearance at K.C.'s in Liberal with Seward head coach Dave Brown in April of 2003. He is 254-49 as Kansas head coach and has won seven straight Big 12 titles and five of the last six Big 12 Tournament titles. No men's college coach has won more than Self the last five years.
Pictures courtesty of Roy Allen