Kansas Budget Talks Stalled
KSCB News - May 6, 2011 8:09 am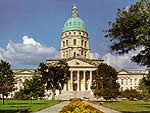 Negotiations by Kansas legislators over a
$14 billion budget are stalled.
They're haggling over building up the state's cash reserves and
facing criticism about the education funding cuts they're
considering.
Heading into a new round of talks Friday, three senators and
three House members still have dozens of differences to resolve.
They failed to resolve any major spending issues during
negotiations Thursday, and their discussions are expected to drag
into next week.
The next budget, for the fiscal year beginning July 1, will trim
overall spending by between 5 percent and 6 percent.
It's also certain to cut general aid to the state's 289 school
districts. That fact has drawn a public rebuke from Kansas
Democratic Party Chairwoman Joan Wagnon, a former state revenue
secretary and House member.