Kansas Baseball Hall of Fame Selects Seward's McSpadden
KSCB News - December 13, 2010 12:00 am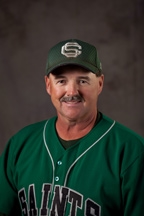 Seward baseball coach Galen McSpadden is already a member of the NJCAA Hall of Fame. McSpadden will be inducted January 22 to the Kansas Baseball Hall of Fame. McSpadden came to Liberal to play for the Liberal Bee Jays in 1972 and pitched for them from 1972-74. McSpadden has coached the Saint program 30 seasons.
McSpadden ??s overall head coaching record is 986-546 (.644), ranking him 23rd in NJCAA history for most career head coaching wins and 8th in active coaching wins. Only four coaches in the history of the NJCAA have more wins in fewer seasons than McSpadden does in his 29 years as a head coach. He is ranked second all-time in Region 6 history in overall head coaching wins (986) and he is eighth all-time in Region 6 career winning percentage (.644). Under McSpadden's leadership Seward County has also made their mark in the NJCAA Top 20 poll with 16 of the last 18 years receiving a national ranking.
He has not only been a winning coach, but was instrumental in the construction of Brent Gould Field to the condition it is now. Here is the official media release from the Kansas Baseball Hall of Fame.
Barnes, Bryant, Davis
Kanehl and McSpadden
Elected to Kansas Baseball Hall of Fame
The Kansas Baseball Hall of Fame is proud to announce the election of the l ate Virgil ??Zeke ? Barnes,
Gayle Bryant, Les Davis, the late Rod Kanehl and Galen McSpadden as its Class of 2011. All will be inducted
at the Kansas Baseball Hall of Fame ??s annual banquet on January 22 at Hillside Christian Church, located at
8330 East Douglas in Wichita
Barnes was raised near the northeast Kansas town of Circleville. He followed his brother Jess to the major leagues. They became teammates with the New York Giants in 1919 and would later become the first two brothers in major league history to oppose each other as starting pitchers. Virgil died in Wichita in 1961.
Bryant led Wichita East High School to state championships in 1956 and 1957. After moving on to Wichita State (then Wichita University), he also pitched for the Boeing Bo-Jets and the 1961 Kansas champion Weller Indians. He was named a league all-star each season. Bryant spent one professional season at the Class A level.
Davis is the most successful coach in Kansas High School history, with 1,522 football, basketball and baseball victories in a 48-year career. Forty of those years were spent at Sedan High School. His baseball win total was 512, which includes a state championship in 1973. Davis played baseball on numerous NBC Tournament teams.
Kanehl was born in Wichita in 1934 and was one of the original members of the New York Mets. A favorite of manager Casey Stengel, ??Hot Rod ? was known for his hustling, all-out style of play. In three seasons with the Mets, Kanehl hit .241 with six home runs and 47 RBIs. He died in 2004 at the age of 70.
McSpadden has 986 wins entering the 2010-11 season and is among the all-time winningest coaches in the community college ranks. Since coming to Seward County in 1982, McSpadden has coached thirteen Jayhawk West conference champion teams and is a five-time coach of the year.