Kansas�?? First Public Access CNG Station To Open on Tuesday, July 1st at 11:00AM
KSCB News - June 26, 2014 3:26 pm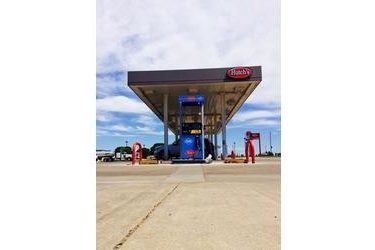 Hutch's will open Southwest Kansas' first public access compressed natural gas (CNG) fueling station at the Hutch's at 1580 N. Kansas, Liberal, KS 67901. Offering convenience, accessibility, and an attractive retail setting, the CNG station promises to be the first of many more CNG developments in the area. To commemorate the occasion, Hutch's, together with Black Hills Energy and Sparq Natural Gas, will complete a "first-fill" celebration and provide comments and natural gas vehicle demonstrations and 'ride and drive' opportunities beginning at the Hutch's CNG site at 11:00AM. Members of the regional U.S. Department of Energy Clean Cities Coalition, City of Liberal, and local businesses invite supporters to join in the activities. Beverages and snacks will be provided.
"We are pleased at Hutch's to join with Black Hills Energy and Sparq Natural Gas to add CNG fueling at our store at a time when increased interest for fuel alternatives is present across Southwest Kansas and areas experiencing oil and gas development," said David Hutchinson, Hutch's President. "Every day more companies are becoming aware of the opportunities to fuel their fleets on CNG. At Hutch's, we are seeing commercial and retail interest and questions on CNG continuing to rise and we want to meet the needs of our loyal customer base by offering a variety of fueling options, which will led our work in Liberal, and look to expand across our station footprint. Additionally, and more importantly, by supporting CNG, our company recognizes we are also helping sustain Kansas' oil and gas industry."
"Hutch's has been a committed partner with us," commented Norman Herrera, Chief Executive Officer at Sparq Natural Gas. "They are a trusted and dependable leader in the communities they operate with a growing expansion across the region. Like us, they are entrepreneurial and have a significant interest in offering new and diverse fueling options that support Kansas businesses and the state's economy. On the eve of nation's independence, we are pleased to join in the celebration of offering a clean, abundant, affordable Kansas fuel."
"We believe compressed natural gas has tremendous value as a transportation fuel and will play a significant role in the Kansas economy as the number of vehicles on the road grows. That's why we're making the investment to integrate natural gas vehicles into our own fleet, and we're committed to working with our communities and customers to bring natural gas fueling opportunities to fruition," said Todd Jacobs, General Manager of Black Hills Energy in Kansas.
"I see a bright future for natural gas as a transportation fuel in our country," Hutchinson said. "Energy production and development is a key part of the Southwest Kansas, Oklahoma and Texas Panhandle regional economy and a strong oil and gas market serves to create tens of thousands of new, good-paying jobs for across our country. Natural gas vehicles represent a practical and tangible utilization of our region's native resource and helps keep Kansas money in Kansas.