Kan. Unemployment Rate 6.9% In July
KSCB News - August 20, 2010 12:00 am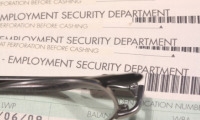 Unemployment in Kansas increased to 6.9% in July, up from 6.5% in June but still better than the 7.9% last July.
The Department of Labor said Friday that Kansas had an increase in the number of new jobs compared with the same month in the previous year ?? the first time that's happened since October 2008.
As of July, Kansas businesses have added 1,700 jobs during the past 12 months. But compared to June, the state lost 18,200 jobs, which reflects the seasonal reduction in school employment for the summer.
Gov. Mark Parkinson says the report is encouraging because it shows job creation is beginning to return to manufacturing and construction. But Parkinson said too many Kansans are still looking for work.