Kaasch's Big Day Leads Saints Past Frank Phillips
Brock Kappelmann - March 2, 2017 2:48 pm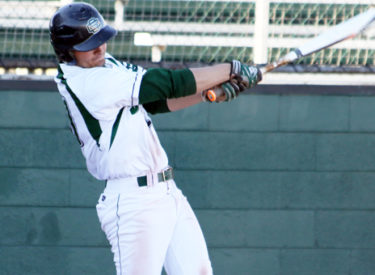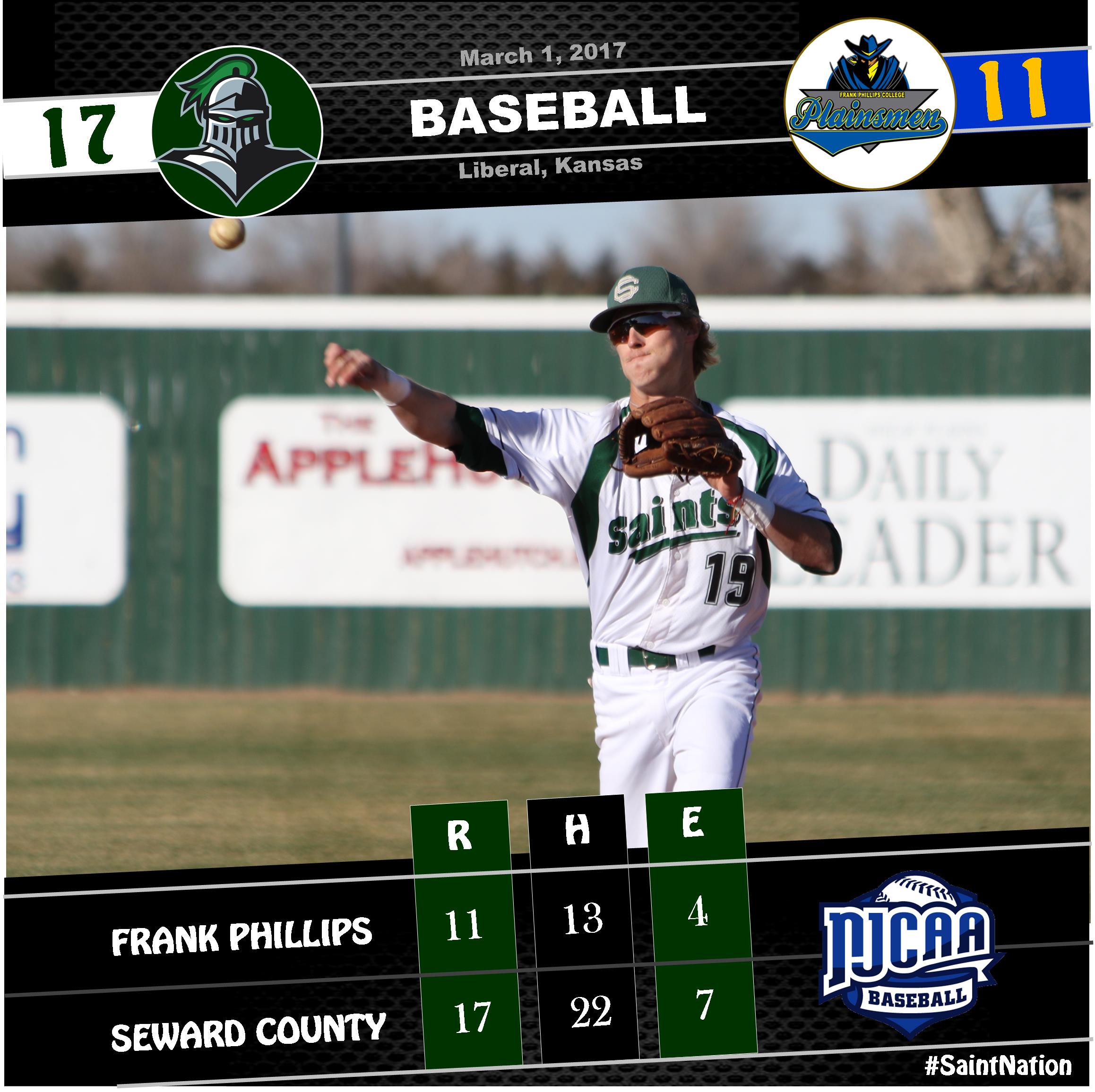 The Seward County Saints and Frank Phillips Plainsmen hooked up for the first of four meetings this season on Wednesday afternoon at Brent Gould Field in Liberal, combining for 36 hits and 28 runs in the midweek affair, a contest the Saints would come out on top of 17-11 behind a two homer, four RBI game from shortstop Addison Kaasch.
Things didn't start real well for the Saints Wednesday afternoon as they came off of a 10 day break from their last game. Seward pitching was only able to retire one of the seven Frank Phillips hitters that came to the plate in the top half of the 1st, thankfully that was a double play and another Plainsmen runner was gunned out on the bases to only allow three Frank runs in the inning as they took an early 3-0 lead.
Seward got a run back in the bottom of frame on an RBI single from Jared Biddy, but the Plainsmen were back at it in the 2nd, scoring three more times to open up a 6-1 lead.
Brian Tims led off the Seward 2nd with his first career home run to make it a 6-2 game and Addison Kaasch followed suit in the 3rd to cut the Plainsmen lead to 6-3. Later in the 3rd the Saints would load the bases and be gifted a walk to force another run home, making it a 6-4 game after three.
Kaasch belted his second home run of the game in the 4th to get Seward back to within one and back to back singles from Law Greiner and Tims put the Saints in front for the first time in the game at 7-6. They weren't done there as later in the inning Brendan Madsen slapped a single up the middle to plate both Greiner and Tims to finish off a five run inning for Seward to give them a 9-6 advantage.
A one out triple from Biddy followed by a two out triple from Tims in the 5th plated another Seward run to make it 10-6 and the Saints pushed home three more on back to back doubles from Errett Edwards and Kaasch in the 5th to extend their lead to 13-6.
Nick Johnston dealt the only 1-2-3 frame of the day for either side in the top of the 7th and after stretch time the Saints blew it wide open, getting a two run single from Edwards and a sac fly from Cody Stineman to make it 16-6.
Frank Phillips finally got back on the board with a solo home run in the 8th, but again Seward answered it with an RBI triple from Tim Fitzgerald to go back up 10 at 17-7.
The Plainsmen made some noise in the 9th, batting around and scoring four times, but it was too little, too late as the Saints finished off a 17-11 win to snap a four game losing streak.
The Saints scored in every inning and pounded out 22 hits in the win led by Kaasch who finished 3 for 5 with two homers, a double, and four RBI's. Tims put together his best offensive game of his Seward career as well, going 4 for 6 with three RBI's while missing hitting for the cycle by just a double. Five of Seward's nine pitchers in the game put together scoreless outings including Dominic Duran who earned his first career win by tossing a scoreless fourth frame.
Seward snaps a four game losing streak to improve to 5-10 on the year while Frank Phillips' slow start continues at 2-8.
The Saints will remain at home this weekend as they open up Jayhawk West Conference play against the preseason favorites in Hutchinson. The Saints and Dragons will go head to head Saturday and Sunday at Brent Gould Field with doubleheader starting each day at 1:00.
SEWARD COUNTY/FRANK PHILLIPS BOX SCORE<http://www.sewardsaints.com/sports/bsb/2016-17/boxscores/20170301_1168.xml>
Roy Allen